RESEARCH AND PUBLICATIONS
Kosnik is the series editor of Laudate, a multi-volume anthology of organ repertoire based on hymnody, published by Concordia Publishing House (St. Louis, Missouri).
The organ music is based on the 100 Most Popular Hymns in Worship III and Gather. The first volume of the anthology, Laudate I, was published in 1994, and four additional volumes, Laudate II – V, were published during each successive year thereafter. The sixth volume of the anthology, LaudateVI, which includes five compositions by Adolphus Hailstork, was published in July, 2001.
Click here to purchase any of the books listed below.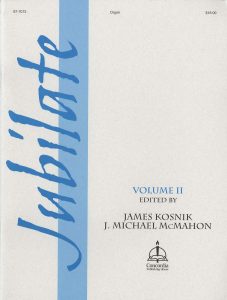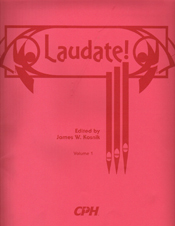 Laudate Volume 1
Includes titles as…
As with Gladness Men of Old
Come Now, and Praise the Humble Saint
Creator of the Stars of Night
Day Is Done
Faith of Our Fathers
For All the Saints
Gather Us In
Go Tell It on the Mountain
God of Our Fathers
God, We Praise You
Hark! The Herald Angels Sing
Holy God, We Praise Thy Name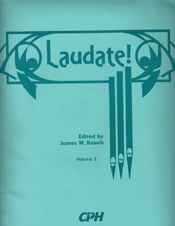 Laudate Volume 2
Includes titles as…
Alleluia! Sing to Jesus
Angels We Have Heard on High
Blest Are They
Cathedral Voluntary
From All That Dwell Below the Skies
Draw Us in the Spirit's Tether
God of Day and God of Darkness
How Blessed Is This Place
I Know that My Redeemer Lives
It Came upon the Midnight Clear
Jesus Shall Reign
Let All Mortal Flesh Keep Silence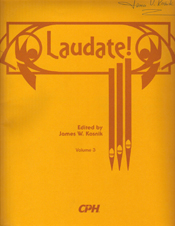 Laudate Volume 3
Includes titles as…
All Glory, Laud, and Honor
All People That on Earth Do Dwell
Alleluia, Give Thanks
Christ the Lord Is Risen Today
Come Now, and Praise the Humble Saint
Come, Ye Faithful, Raise the Strain
God, Who Stretched the Spangled Heavens
Hark, The Herald Angels Sing
I Come with Joy to Meet My Lord
I Want to Walk as a Child of the Light
Jerusalem, My Happy Home
Jesus Christ Is Risen Today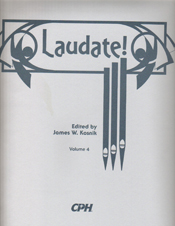 Laudate Volume 4
Includes titles as…
A Mighty Fortress Is Our God
Amazing Grace
At That First Eucharist
Baptized in Water
Christ Is Alive
Christ the Lord Is Risen Today; Alleluia
Christians, Lift up Your Hearts
Christians, to the Paschal Victim
Christ's Church Shall Glory in His Power
Come, Holy Ghost
Come, O Long-Expected
Crown Him with Many Crowns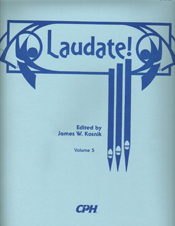 Laudate Volume 5
Includes titles as…
All Hail the Power of Jesus' Name
Almighty God, Your Word Is Cast
America
Center of My Life
Eat This Bread
Humbly Let Us Voice Our Homage
I Am the Bread of Life
In Christ There Is No East or West
Lo! He Comes with Clouds Descending
Lord, Keep Us Steadfast in Your Word
Love One Another
Now Thank We All Our God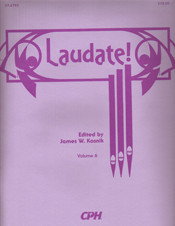 Laudate Volume 6
Includes titles as…
All Earth Is Hopeful
Bread of Life
Christ Has Arisen, Alleluia
Everytime I Feel the Spirit
Fishers of Men
Go Down, Moses
I Want Jesus to Walk with Me
Kum Ba Yah
Listen, God is Calling
Oh, Freedom
Resucito, resucito
There Is a Balm in Gilead