Lab Overview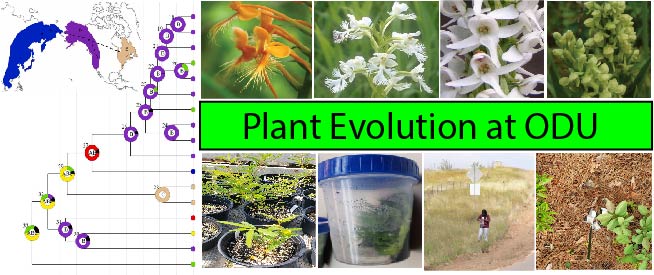 Plants are Diverse and Fascinating!
In the Plant Evolution lab at ODU we study how plants evolve and spread out across the landscape. We use many different approaches to address a variety of questions in plant evolutionary biology from traditional taxonomy to phylogeography to population genetics. We combine field work with genetic datasets and sometimes greenhouse studies to investigate questions of interest. My work focuses on orchids, but students in the lab often choose other groups for their work. Click on the research tab for more details about specific projects on-going in the lab and the people tab to learn about student-led research.
Undergraduate students: If you are interested in participating in research in my lab, please contact me by email (lewallac-at-odu.edu). I have volunteer and often paid positions available and opportunities to work in my molecular genetics lab, the Kaplan Orchid Conservatory, the ODU Herbarium, or the Norfolk Botanical Garden.
Coming in summer 2023! Research experiences for undergraduates interested in plant biology – go here for more details. Applications will be due in March, 2023. 
Potential Graduate Students: Please contact me at lewallac-at-odu.edu with inquiries.