Fieldwork photos
Impressive biofouling after ~3 weeks of monitoring in the Lafayette River.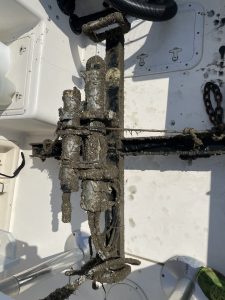 Summer 2021: Undergraduate researcher Amber Tymul and Ph.D. student Jim Metz heading out for another day of sampling on the Lafayette River, as part of a project studying the physical and geochemical drivers behind harmful algal bloom initiation.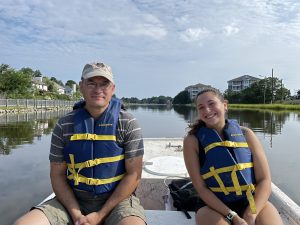 Fall 2019: Graduate students Kallie Brown and Samantha McGill deploying an instrument package on the James River, where we are monitoring hydrodynamic processes and sediment dynamics.
Summer 2018: REU students Ana Grace Alvarado and Jonathan Lucio collecting water samples to test for micro plastics in coastal VA.
Winter 2018: Graduate students Sam McGill and Alfonso Tapias deploying an ADCP and collecting sediment cores in the Lafayette River, VA.
Spring 2018: ODU graduate students joined colleagues from the University of Washington and East Carolina University on a field trip to the Outer Banks to examine a variety of coastal depositional environments and challenges.
Much of my current research is based in Bangladesh, looking at sedimentation and the impacts of sea-level rise on vulnerable coastal communities. These pictures demonstrate some of the beauty and challenges associated with this type of work.