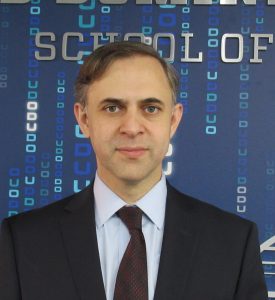 I am a lecturer and Interim Director at the School of Cybersecurity at Old Dominion University. My main teaching interest focuses on the strategy, policy, and international security dimensions of cybersecurity.
Having a background in Systems Engineering (B.S. in Turkish Military Academy), Computer Science (M.Sc. in U.S. Naval Postgraduate School on Human-Computer Interaction track of Computer Science based MOVES program), and International Studies (PhD in ODU's GPIS program), my research interests and professional career have always required interdisciplinary approach studying strategy and policy with a technological focus.
During my time at ODU, I have developed and taught undergraduate and graduate level courses in Leadership and Management in Cybersecurity, Cybersecurity Strategy, and Policy, Cyber War, and Advanced Cyber Law and Policy in online and in-class settings. My classroom experience expands from undergraduate and graduate students to professionals.
I also taught courses of Concept Development, Experimentation, and Force Development in NATO School Oberammergau in Germany alongside national institutions of Albania, Croatia, and Turkey to culturally and professionally diverse audiences. Throughout several years of service in NATO, I have coordinated several IT-related programs. Specifically, in NATO's efforts to acceptance of Cyber as a domain, I have worked with and successfully managed the discussions between experts from a technical, legal, and strategic background in cross-functional working groups. Having worked for the last 10 years in transformational organizations, I closely followed the trends in cybersecurity and broader information technology and served in the adaptation of my organizations to the advance in technology. During my recent position in NATO's Capability Development directorate, awareness of the most recent developments in cyber defense was a critical component of my job description to formulate NATO's cyber policy and strategy.
My several years of experience in cybersecurity, transformation, and leadership taught me the necessity of an interdisciplinary approach to cybersecurity and I see research and education with such a perspective as an urgent necessity. As a faculty in the School of Cybersecurity and the broader ODU family, I am proud to be a part of one of the earliest interdisciplinary initiatives in cybersecurity.
In my spare time, I prefer reading literary pieces from Turkish and English literature and pushing my limits in endurance sports. I enjoy long-distance running and triathlons, and try to arrange my schedule to be able to swim, bike, and run in nearby races (not necessarily enjoying them in the same order).