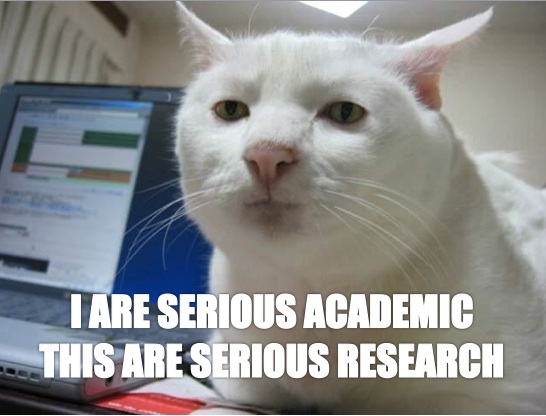 I'm developing new work on a theory of internet cats—and, more recently, doggos. The real theory is only available in a partial form right now, through a narrated Powerpoint, but will be written up and sent off to a journal soon. I do have some precursors in print already.
Preliminary theory:
20th International Conference of the Society for Philosophy and Technology: SPT2017: The Grammar of Things, July 2017, Technische Universität Darmstadt, Darmstadt, Germany. "Teh Intarwebs: Maed of Cats, Akshully." By peer-reviewed proposal. [Narrated Powerpoint Presentation.]
Precursors in print:
Wittkower, D.E. (2015). Taking care of Business Cat. Backchannels, a publication of the Society for Social Studies of Science, 1(1): n.p. By invitation.
Wittkower, D.E. (2012). On the origins of the cute as a dominant aesthetic category in digital culture. In T. Luke & J. Hunsinger (Eds.), Putting knowledge to work and letting information play (pp. 212–221). Transdisciplinary Studies v.4. Boston: Sense Publishers (Springer). By invitation.
Wittkower, D.E. (2012). Cats flushing toilets, Bic for Her, and the Lolcat Bible: Collective expression and play outside of IPR, in media res: n.p.. By invitation.