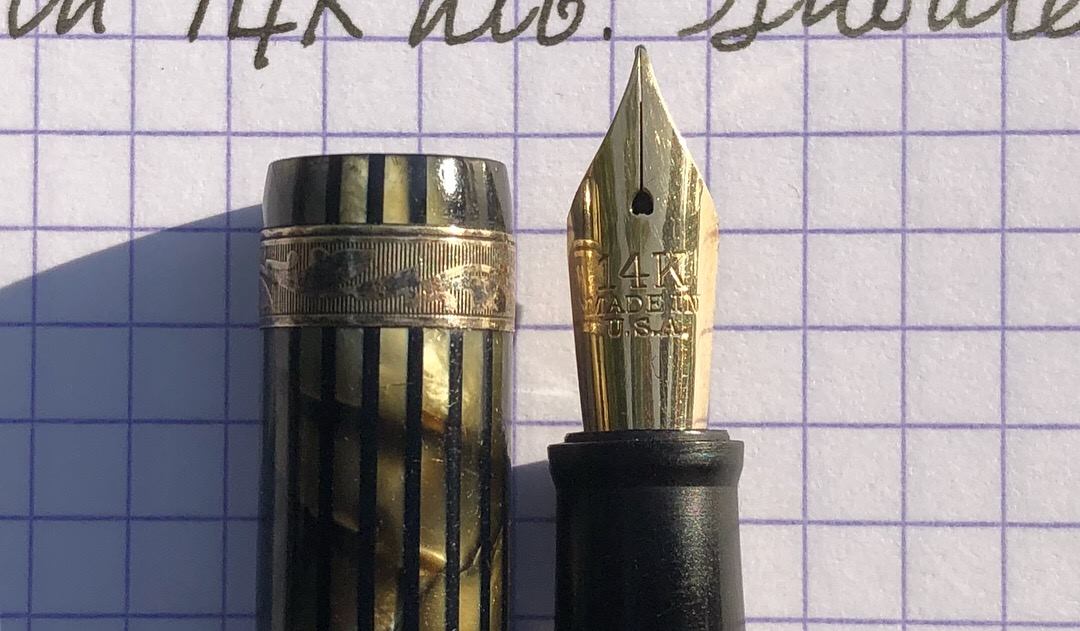 Related to my interest in human-technology relations, embodied cognition, object-embedded scripts, and focal things, I like to explore different technical systems to see how they structure and change meaning and experience. This has included learning to shave with a straight razor, winemaking, historical cooking (esp. Ancient Roman and Medieval English cuisine), charcuterie, Spencerian script, and vintage pen and pencil restoration.
I sell restored pens and pencils on Etsy. Information below is for those interested in restored writing instruments and restoration services.
Restoration
I restore vintage fountain pens with an emphasis on usability, for those who would like vintage writing instruments suitable for regular employment rather than display. Typically, restoration includes disassembly of barrel, section, feed, and nib; ultrasonic cleaning of parts that can be safely submerged in ammonium solution; resaccing (for lever-fillers); nib adjustment and smoothing; application of silicone grease when needed; micro-mesh polishing of furniture; sanding out scratches when needed; microabrasive polishing; and testing with ink, usually over several days. Pens are restored with original manufacturer vintage parts unless otherwise noted.
Use
Vintage pens are often different from fountain pens made today, and vintage pencils are as well. I have useful notes on
Filling mechanisms, inks, and leads
Nibs and writing
Desk and ring-top pens
Edwardian and Victorian propelling pencils
Eversharp Kimberly Retractable Ballpoints
Services
While I cannot offer to regrind or retip nibs, I can offer services including resaccing, cleaning/polishing, feed resetting or adjustment, and nib tuning. Other services, including ebonite reblacking, buffing out scratches, replacing worn or broken parts, and nib straightening and alignment can be offered only after assessment of the pen. I'm glad to answer questions over email about what services may be needed and whether I will be able to provide them.
Allow two weeks' time for servicing. Nib repair and disassembly of parts that have been glued will only be offered at the customer's risk.
$15: Assessment, clean and flush, polish
—Cost of additional work will be set by email following assessment, but typical prices are:
$10: resaccing of lever-fillers
$15: j-bar or pressure bar replacement
$5: conversion of cartridge pens to eyedropper pens (when possible)
$10: nib reset and smoothing
Gallery
I post pictures of newly restored pens on Instagram using hashtag #swfpens.
Contact
d.e.wittkower [at] gmail [dot] com