As my professor has often commented to me on this trip, it's not often that a parent gets to witness their child's dissertation research. Luckily, my mom's a trooper. After hearing my stories from the last two years of Rwanda and my research, my mom decided she really wanted to come. She had a rough year and figured she deserved a little time to really live life, which meant venturing to the heart of Africa in her case. The first few days in Kigali were a breeze (for me anyway, I'm sure it's all overly stimulating for her right now) but then we jumped right into it. She's not exempt from participation, if you're wondering. I had this great idea that I would contact the American nonprofit that operates in the camp—the one that's responsible for the livelihoods projects. In the past I think they've taught basket weaving and sewing. Since my mother's an expert (the kind whose skills aren't truly appreciated in the US, I think) in sewing, knitting, and crochet, I offered her up for the two days we were allowed passes to the camp. The organization was really enthusiastic and set up women to attend two days of crafting workshops.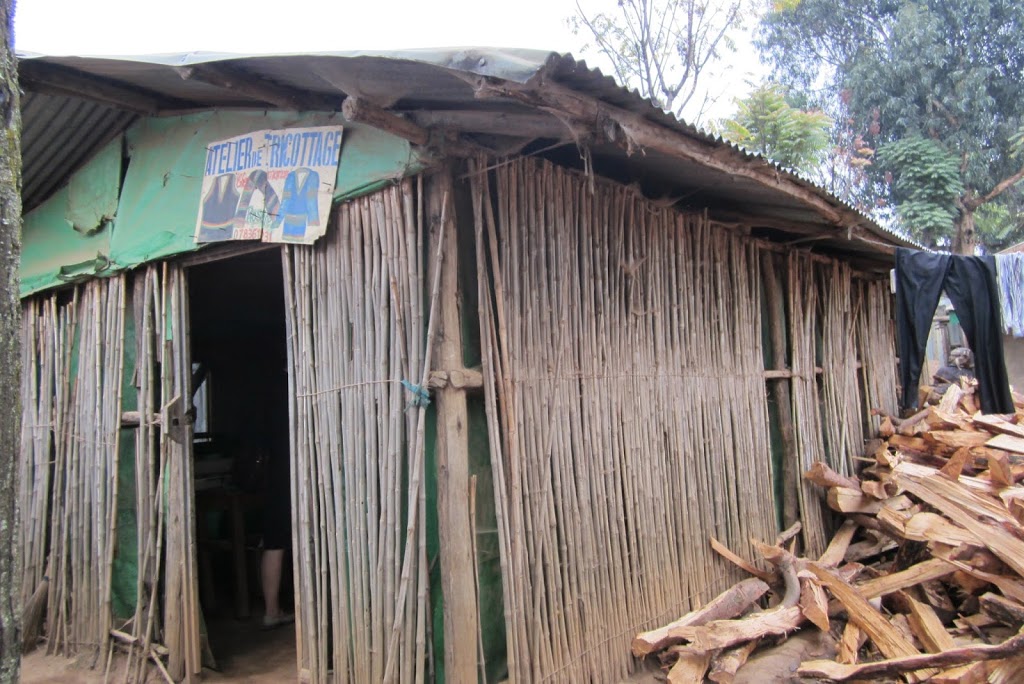 Knitting Workshop Building
On the first day, having no idea what to expect, my mom taught a crochet workshop to 18 women of differing skill levels. She brought samples and books from the US and they worked on some one-day projects. Some finished and moved on to other techniques, but one woman in particular just couldn't get the hang of it. Her scrubber that was supposed to resemble a flower and work its way into a circular shape ended up more like a hat. A little distressed, she asked for help, and with the creativity that comes from being "fluent" in crochet skills, my mom turned it into a cellphone pouch with a little strap. The woman was apparently so overjoyed she went laughing and dancing out into the courtyard to show everyone her creation. Not everyone was able to finish on the first day, and some had to go home to tend to children and couldn't stay the whole time, but overall it seemed to be a success.
On the second day, they were at a different location—somewhere off the of the nonprofit's main compound within the camp—and she worked with a subset of women that were trained by a US women's church group to use knitting machines. The room has absolutely no lighting. Just the cracks in the reed walls let in the light necessary to work the machines. Several machines were stacked in the corner—most of them were irreparably discharged from duty—and those that were in use were incredibly dusty and in desperate need of oil. Even still, she managed to expand their skillset beyond the initial one stitch they learned from the last group. They were so thrilled from the first day's workshop that one woman came to help my mom carry her satchel of supplies to the knitting building and told everyone along the way that they were going to go learn to knit. The enthusiasm carried, and women who didn't know how to knit showed up to get a little assistance finishing their projects from day one. They worked hard in the dark, my mother standing over them with a flashlight and undoing stitches that she could see were clearly not right. She taught them to use the counter—counting stitches is what makes it all match up! And she taught them some finishing touches that allowed them to put together the pieces made from the knitting machines.
At the end, ever-prepared as my mother is, she showed them pictures of her own shop and they excitedly looked over every inch of every picture as they passed them along. I think in the US, when I tell people my mom is an expert in knitting or crochet or sewing, the idea comes across that she's "good" at it. But, actually, she's certified to be an instructor in the Japanese system. It's not like when someone says they "speak French" and all they know is "Bonjour." My mom is a master at what she does, and I think these women really recognized the resource they had at their disposal for two days. They took in as much as they could, and hopeful those that were faster learners will be able to help those who struggled a little. There's such a buzz about the crochet and knitting groups that our Rwandan friend is interested in looking into funding to improve these groups' opportunities for further education, as well as for profiting from their new-found skills. I hope my mom has the chance to come back in a few years and give some next-step lessons. I hope they carry on with their projects and explore new ones that my mom left in the many old Japanese crochet books and magazines that now occupy the shelves of the dark knitting classroom. Also, I hope my mother carries with her the knowledge that her skills really enriched these women's lives, and the impact of skills beyond academics has the power to change the world.