Hat tip for Brian Roberts for getting me interested in this data.
It's remarkable how much of a phase shift seems to have happened with the 2016 cycle. Suddenly many more people were 'running' for President. The Ballotpedia graph below indicates that the jump occurred both among people claiming to be affiliated with one of the major parties and among independents.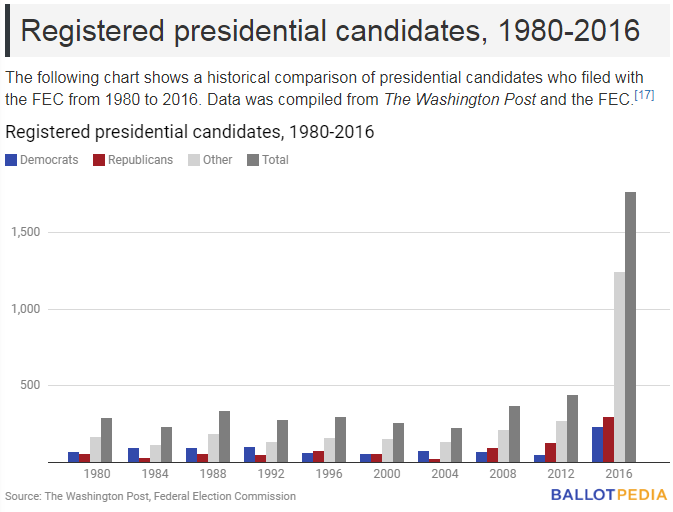 Graph is at: https://ballotpedia.org/List_of_registered_2020_presidential_candidates.
But if the early numbers are any indication, we haven't seen ANYTHING yet.  As of March 2 2015 there were merely 178 candidates with papers filed according to data on Ballotpedia (https://ballotpedia.org/Presidential_candidates,_2016) while we are already at about 580 as of March 2nd 2019.  If this pace continues, we might break the 5000 candidate mark!
The 2016 filings do continue the basic pattern from earlier in the series that more filings come from the opposite major party.  196 Democratic and Democrat-Farmer-Labor filings versus only 75 Republican filings (excluding the duplicate entry for Arnold Matthew Jones).  Thus, the same processes seem to be in play as in the past, only on a much larger candidate-number scale.
The 2020 list seems to have a few obviously prank names like those Roberts highlighted in an Election Law List-Serv post for 2016 (Boddie, President R19 and Internet, Beef are both running for instance). None the less the prank names are obviously merely the tip of the iceberg in terms of completely non-serious or otherwise frivolous filings. How many of these 'candidates' are really people who are running?  Has doing a vanity filing so that one can say "I ran for President" become much more of a cultural 'thing' for some reason? Or perhaps the most likely explanation is that the internet has made it easier for people (and Beef Internet) to navigate the required process in order to file to run with the FEC, and to have social media fun doing so.