Hooked on Polyphony: Volume 1: American Counterpoint Liner Notes
Mike Hall: alto, tenor, bass trombone
This 2022 project is the first in a series of planned trombone ensemble recordings. Hooked on Polyphony: Volume I: American Counterpoint is a studio recording project of ten compositions by contemporary American composers. The oldest work dates from 2007 by Paul Turok, who sadly passed away just before the recording of his work was finished. All other composers are living; most are at the height of their careers; three are recently retired.
These works require from four to twelve instruments. Mike Hall performed all the parts using alto, tenor and bass trombones. Recording engineer and studio artist Alek Palmersmith mixed and mastered the project using all the tools of the modern recording studio to create a unique sound experience that goes beyond the traditional, acoustic concert hall conception of trombones onstage. Panning, in particular, is used in creative ways to heighten the shape and structure of the bigger pieces.
These are mature, important, American works. They continue a tradition of art music created for trombone ensembles that spans some 500 years and they represent a variety of styles ranging from modern, popular harmonies to jazz and gospel infused funk, to edgy, experimental sonorities. All living composers contributed guidance through to the final product. Our driving motivation from the beginning has been to deliver performances that match each composer's ideal conception of their own work, while applying studio tools that enhance clarity, impact and uniqueness. Mike Hall
Equipment:
Conn 36h alto trombone with B-flat attachment, Greg Black custom mouthpiece similar internally to Bach 18
Bach 36 tenor trombone with detachable F attachment, Schilke 50 stock mouthpiece and David Houser custom mouthpiece, similar internally to Mt. Vernon Bach 5GS
Bach Stradivarius 42K tenor trombone with F attachment. Greg Black standard weight, custom mouthpiece.
Conn 62 bass trombone with independent F/G-flat Lindberg valves, CKB 1 1/2G stock mouthpiece and Schilke 60 customized for Bruce Nelson
AKG C214 microphone into Audient iD14 interface into ProTools running on MacBook Pro platform
Cover art: Uarda Taylor
Engineered and produced by Mike Hall
Mixed and mastered by Alek Palmersmith
This project is made possible through the generous support of Richard C. Overbaugh and the Society for American Music Sight and Sound Subvention.
1. Willard Zirk. 95@500 for four trombones. Imagine Music Publishing, 2017. 4:26
Sy Brandon. Adages: Six Vignettes for Trombone Quartet. Co-op Press, 2011.
2. I. The grass is always greener on the other side of the fence 1:48
3. II. Absence makes the heart grow fonder 2:01
4. III. Time flies when you are having fun 1:04
5. IV. Every cloud has a silver lining 1:47
6. V. He who hesitates is lost 1:30
7. VI. A rolling stone gathers no moss 1:19
8. Daniel Kessner. Chants and Echoes for six trombones. Universal Edition, 2019. 7:50
9. Gary Powell Nash. Ana's Song and Dance for eight trombones. Gary Powell Nash, 2010. 5:56
10. Paul Turok. Variants on a Theme by Grieg Op.94 for eight trombones. Theodore Presser, 2002. 9:37
11. Chris M. Sharpe. Joy Cometh in the Morning for eight trombones. C. Sharpe Editions, 2018. 5:05
Armand Russell. Dark Alliances for twelve trombones. Cherry Classics Music, 2009.
12. 1. Conflicting Alliances 2:39
13. 2. Confluent Alliances 3:39
14. 3. Shifting Alliances 1:11
15. Gary Powell Nash. Hot Buttered Omelette for eight trombones. Gary Powell Nash, 2010. 3:23
Armand Russell. Diversità for four trombones. Cherry Classics Music, 2011.
16. 1. Animated 3:34
17. 2. Elegiac 3:12
18. 3. Formidable 1:08
19. 4. Mystical 3:38
20. 5. Capricious 3:36
21. Henry Wolking. Forests for ten trombones. Cherry Classics Music, 2020. 9:56
Total: 75:33
Willard Zirk. 95@500 for four trombones. Imagine Music, 2017.
Michigan native, Willard Zirk (b.1950) holds music degrees from Michigan State University, Catholic University of America and the University of Michigan. As a professional horn player he was a member of The United States Army Band (Pershing's Own), and principal horn with the Ann Arbor Symphony, among many others in a long and distinguished career. Beginning in 1980 he taught horn, music theory, counterpoint, and music literature at Eastern Michigan University, retiring as Professor Emeritus in 2021.
Dr. Zirk writes: This set of variations on Ein Feste Burg was commissioned by the students of my colleague and friend, Eastern Michigan University trombone professor, Donald Babcock. When I received their request I took the opportunity to fulfill my wish to write a piece to commemorate the 500th anniversary of the beginning of the Reformation. The title refers to Martin Luther's nailing 95 theses on the door of the Castle Church in Wittenberg, October 31, 1517. This act began a revolution in the Christian church that had great consequences. One major change was the creation of more simple music that could be sung by the congregation instead of a trained choir. Hence, the Lutheran chorale was born.
Martin Luther's Ein feste Burg ist unser Gott is thought to have been written between 1527–1529. Luther wrote the melody with no harmony; many composers have since harmonized it. J.S. Bach used it in his Chorale Cantata BWV 80, to be sung on Reformation Day. Luther set it with irregular rhythms and that gave rise to the unique rhythms in this set of variations. However, the last variation follows the well-known regular meter.
Sy Brandon. Adages: Six Vignettes for Trombone Quartet. Co-op Press, 2011.
Sy Brandon (b.1945) in New York, holds the rank of Professor Emeritus of Music from Millersville University, Millersville, PA where he taught low brass, composition, orchestration, music history, electronic music, and music industry for twenty-four years. He received music degrees from Ithaca College and the University of Arizona. Sy Brandon's award-winning music has been performed and recorded around the world.
I. "The grass is always greener on the other side of the fence." The interpretation of this adage is that one always wants what someone else has instead of accepting one's own uniqueness. During the movement, counterpoint is used to depict one instrument copying another. Towards the middle of the movement, the bass trombone eventually realizes its independence and states a bold melody of its own. The movement ends with the first trombone playing its melody alone with pauses between the phrases as if looking over its shoulder wondering where the other trombones are.
II. "Absence makes the heart grow fonder." This setting represents a growing love despite the emptiness of being apart. Hollow intervals of fourths and fifths representing longing, occur at the beginning and end. A short love duet between two instruments occurs in the middle.
III. "Time flies when you are having fun." A rollicking six-eight meter is used to represent a children's game of tag. There is a lot of alternation of short phrases as if one instrument is trying to tag the other and the other is trying to avoid being tagged. The dissonance and short accented notes represent taunting.
IV. "Every cloud has a silver lining." This movement is a prayer-like setting with alternation of minor and major harmonies representing the cloud and the silver lining respectively.
V. "He who hesitates is lost." This movement is rhythmic and syncopated with the instruments alternating phrases in the manner of a call and response. It calls for split-second precision between the performers, therefore representing the adage.
VI. "A rolling stone gathers no moss." The last movement is a perpetual motion in a rolling six-eight meter. The musical ideas are chromatic with the exception of the main theme that appears first as a solo melody, then as several instruments together, and later as instruments in imitation. Towards the end, there are a few brief pauses and low accented notes as a life of activity has a few bumps along the way.
Daniel Kessner. Chants and Echoes for six trombones. Universal Edition, 2019.
Daniel Kessner (b.1946) in Los Angeles, received his Ph.D. from the University of California, Los Angeles in 1971. He is now Emeritus Professor of Music at California State University, Northridge, where he taught composition and theory from 1970 through 2006. He maintains an active career as composer, flutist, and conductor. His music is published and performed around the world.
Chants and Echoes, originally for six or more horns, adapts beautifully for trombone ensemble. At the beginning and end of the piece the score includes this direction: "During this time, listen carefully to the two tones, balancing and 'tuning' them." The direction refers to the sustained major second, E-flat and F, which are to be perceived as a single sound. This sonority is used as a point of arrival and repose throughout the piece. The work is given in a single movement punctuated by three, brief, contrasting sections: a Trio, played by trombones IV, V & VI, a Duet, played by trombones II & III, and an accompanied trombone I Solo. This recording is lovingly dedicated to the memory of Dolly Eugenio Kessner.
Gary Powell Nash. Ana's Song and Dance for eight trombones. Gary Powell Nash, 2010.
American composer, educator, and saxophonist, Gary Powell Nash (b.1964) holds music degrees from Michigan State and Western Michigan Universities. His compositions range from chamber to orchestral works and are influenced by European music as well as traditional American genres such as jazz, blues, spirituals and ragtime. He endeavors to find and use unique, exotic subject matter as premise for his creative works. Dr. Nash is Professor of Music Theory and Technology at Fisk University in Nashville, TN and conducts the Fisk University Jazz Ensemble.
Ana's Song and Dance is based on and inspired by the song Ana by Vieux Farka Touré of Mali. The original song features a melodic blues-like bass ostinato at a moderate tempo that occurs throughout much of the song. Ana's Song and Dance begins with fanfare-like music, then transitions into rhythms, harmonies and melodies derived from that same motive, utilizing a progressive formal structure.
Paul Turok. Variants on a Theme by Grieg Op.94 for eight trombones. Theodore Presser, 2002.
Paul Turok (1929-2012) studied composition at Queens College, University of California (Berkeley), Princeton and Juilliard. After serving in the Korean War in the early 1950s, he taught at CUNY, and was visiting Professor of Composition at Williams College. His works were performed worldwide, and he was also a noted critic. Prior to founding a monthly review of new classical recordings in 1990, "Turok's Choice," he wrote monthly columns for Music Journal and Ovation Magazine. He was also a regular contributor of classical record articles to the New York Times and a frequent guest critic on the nationally syndicated radio show, First Hearing.
Variants on a Theme by Grieg Op.94 is based on Grieg's "Bell Ringing" Op.54, No.6 for piano and dedicated to legendary trombonist, Per Brevig. Its opening and closing sections mimic ringing church bells with staggered entrances that become more rhythmically complex, as is frequently heard when bells ring from several sources across a town. When the bells cease their cacophonous ringing, free-form composition unfolds a variety of melodies and textures that lead to a single, liquid solo voice in one key, singing over muted bells from other churches in a close but different key. The bells again coalesce to a conclusion of massive, exuberant fanfares.
Chris M. Sharpe. Joy Cometh in the Morning for eight trombones. C. Sharpe Editions, 2018.
Tennessee native, Chris M. Sharpe (b.1988) is a composer, arranger, teacher, and bass trombonist. He holds music degrees from the Universities of Tennessee and North Texas and has been writing for trombone ensembles since 2005. In 2017 he founded C. Sharpe Editions, an online music publishing company specializing in works for trombone and trombone ensembles.
Mr. Sharpe writes: This work was influenced by several different things that all happened around the same time. On October 1st, 2017, 58 people were killed and 546 injured in the infamous Las Vegas shooting near the Mandalay Bay hotel. A couple days later, I happened to watch an episode of the television show The West Wing in which the President gives a speech following a bombing at an aquatic center, and he quotes the phrase "joy cometh in the morning" from Psalm 30:5. The longer version of the verse ("weeping may endure for a night, but joy cometh in the morning") was weighing on my mind one morning soon after when I was driving to work, and I happened to witness a sunrise develop from pitch black through various shades of blue and orange into a fiery blaze as I drove along I-35W SB. That image and experience stuck with me, and it is the inspiration behind this work. Even from the darkest nights, joy greets us in the morning.
Armand Russell. Dark Alliances for twelve trombones. Cherry Classics Music, 2009.
Seattle, Washington native, Armand Russell (b.1932) earned composition degrees from the University of Washington and the Eastman School of Music, where he taught as visiting professor. From 1961 to 1994 he taught music theory and composition and served as chair of the Music Department at the University of Hawaii, retiring as Professor Emeritus in 1994. He has composed in a wide variety of musical genres including instrumental chamber music, orchestral music, choral and vocal music.
Dark Alliances is scored for three trombone quartets and was first performed by the Mānoa Trombone Ensemble at the University of Hawaii in May 1992. The version recorded here has been updated slightly for publication in 2009. The 'alliances' are heard between the three quartets in each movement, often complimenting one another but also diverging, sometimes angrily. This is brilliant writing for trombones, frequently using orchestral sonorities and a most impressive palate of dynamic contrasts to express original, compelling musical ideas that call the stability of the alliances into question.
Gary Powell Nash. Hot Buttered Omelette for eight trombones. Gary Powell Nash, 2010.
Hot Buttered Omelette is based on the poem I Wrote a Good Omelet by Nikki Giovanni. Dr. Nash writes: I was composing a song cycle on Giovanni poems and thought rhythm and blues type music would be good for I Wrote a Good Omelet. After composing that particular movement, I adapted it for trombone choir. Hot Buttered Omelette features jazz/funk bass lines and melodies.
I wrote a good omelet… and ate
a hot poem… after loving you

Buttoned my car… and drove my
coat home… in the rain…
after loving you

I goed on red… and stopped on
green… floating somewhere in between…
being here and being there…
after loving you

I rolled my bed… turned down
my hair… slightly
confused but… I don't care…

Laid out my teeth… and gargled my
gown… then I stood
…and laid me down…
To sleep…
after loving you
Armand Russell. Diversità for four trombones. Cherry Classics Music, 2011.
Diversità, means 'variety' in Italian, and refers to the relationships between the movements. The five movements contrast, alternating fast and slow movements. The three fast movements, 1, 3, and 5, are almost Scherzo-like with their brief crises and prevailing positive dispositions, including unflagging energy. The two interspersed slow movements are dissimilar. Movement two is quite serious with a melancholy effect. Movement four begins and ends with passages using contrasting mutes creating an element of mystery surrounding a middle section that has a strong central climax. The contrasting treatment of these five movements reflects the diversity connoted in the title while an essential unifying spirit is found in the frequently encountered Scherzo element.
Henry Wolking. Forests for ten trombones. Cherry Classics Music, 2020.
Floridian, Henry Wolking (b.1948) is a composer, trombonist, conductor, teacher, and author with music degrees from the Universities of Florida and North Texas. At the age of twenty-four he began his teaching career as head of the jazz area at the University of Utah where he retired in 2011 as a University Professor Emeritus of Music. Deeply inspired by the outdoors and natural environment and grounded in the practical jazz tradition, his massive output includes works for large and small forces that have been played and recorded around the world for over 50 years.
Forests was composed for symphony orchestra and premiered in 1991. In 2020 the composer adapted it for ten trombones divided into two choirs, each comprised of one alto, three tenor and one bass trombone. The choirs sometimes sound antiphonally but are also woven into various combinations to create large, vertical tapestries. Sections overlap and contrast, creating mosaics of color, emotions and effects that paint abstract sound pictures. Mr. Wolking writes: "When one truly experiences a forest, one is struck by an astounding variety of coexisting phenomena-the sparkle of light on water, the wind on reflecting surfaces, ever-modulating shades of green, blue, silver and brown, and the actual sound of bird calls. Their tiny melodies are surprisingly jazzy… When the wind blows, every exposed surface vibrates and becomes a wind symphony. The piece begins as if one were viewing a majestic glistening forest from the air. What follows is a journey into the forest and increasing awareness of its mysteries. The last section represents the horror of deforestation. This composition intends to be celebratory, reminding us of what we have." Forests is a towering, dramatic sound tour that advances the modern trombone ensemble into new vistas.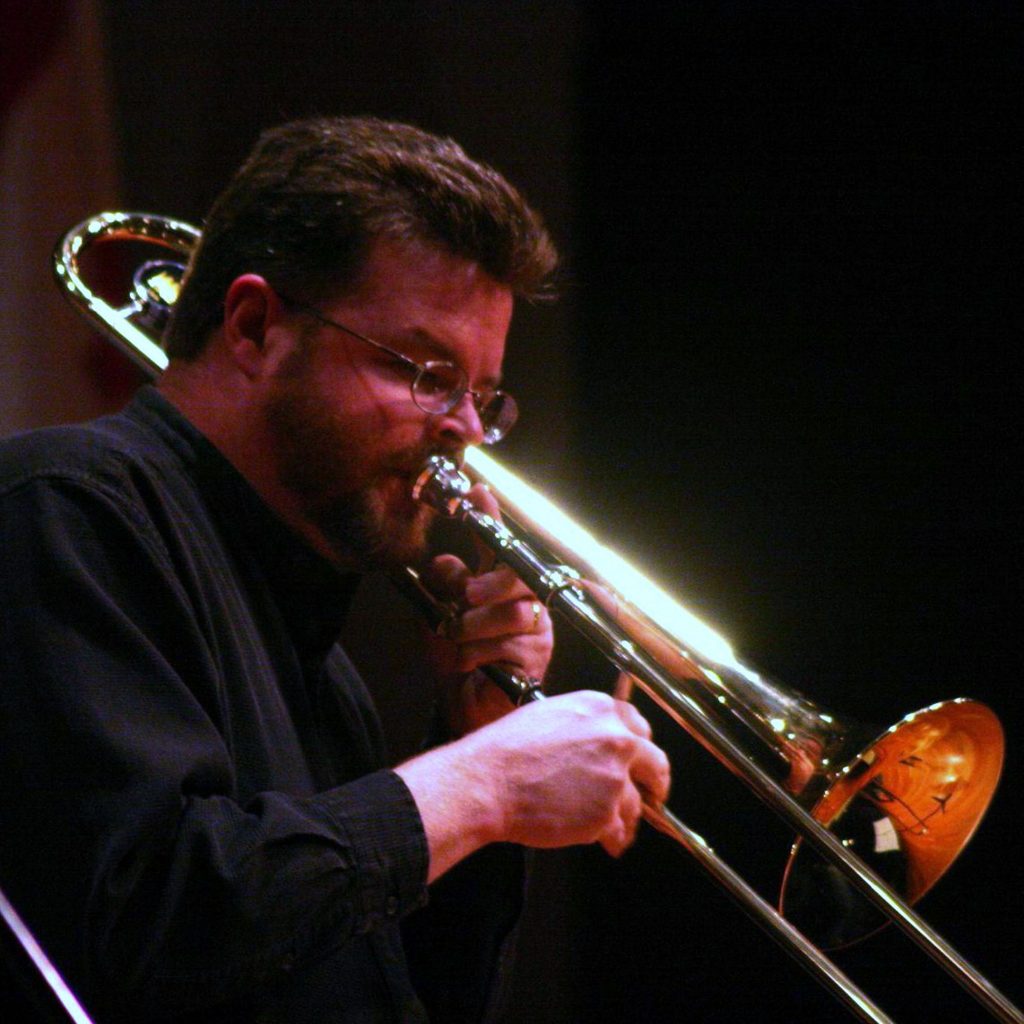 MIKE HALL teaches trombone/euphonium and brass chamber music at Old Dominion University in Norfolk, VA, USA, and serves as Literature Reviews Editor for the International Trombone Association Journal. He previously served on the faculties of the University of Kansas and Eastern Michigan University. Dr. Hall has performed extensively throughout North and South America, Europe and Asia performing a range of styles and literature with symphony orchestras, wind and chamber ensembles and as featured soloist. He also has an extensive background in commercial music backing entertainers, playing in large and small group jazz settings, and performing in theater and studio recording ensembles. His study of early music performance practice has led to seven solo recordings: Arcangelo Corelli Solo Chamber Sonatas, Opus 5; J.S. Bach: The Gamba Sonatas; Benedetto Marcello Solo Sonatas, Opus 1, J.S. Bach: Art of Fugue, Johann Ernst Galliard: Six Sonatas, J.S. Bach School for Trombone and The Perilously Tempered Trombone. Music for a New Millennium, new sonatas for trombone and piano, was released in 2015. Mike Hall is a C.G. Conn and Selmer Bach performing artist.