Come Train with Us: On-going Support for Faculty Using ePortfolios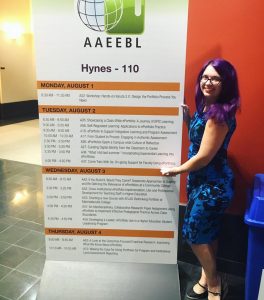 In this session, presenters share an eportfolio professional development workshop agenda and activities, faculty support strategies, and implementation assessment methodologies. Presenters connect activities to eportfolio scholarship and learning theories as well as share the initial faculty assessment data results.
A successful plan for scaling up eportfolio use requires faculty engagement. Scholars recognize that faculty training to teach with technology must be ongoing; one time training would not suffice. Morgan (2003) argued that faculty needed to be trained for both "initial adoption" and "expanded use" (p. 10). Recognizing that faculty needs may vary, Gold (2005) suggested using technology assessment surveys/tools to assess faculty and then base technology training on data provided from faculty. With this in mind, our professional development efforts strive to show how the technology supports, rather than dominates, learning objectives, recursively using faculty feedback to shape such efforts.
Our professional development workshop assessment strategies focus on both the student and faculty learning. We collect and assess direct evidence of student learning via eportfolios, using the AAC&U Integrative Learning VALUE rubric. A second layer of assessment determines the impact of on-going professional development and support in regards to eportfolios on course design and faculty engagement. Finally, through surveys and faculty focus groups, we gather their reflections on the process of developing eportfolios and incorporate their recommendations for improvement.
[gview file="https://fs.wp.odu.edu/mmize/wp-content/uploads/sites/479/2017/03/AAEEBL-2016.pdf"]