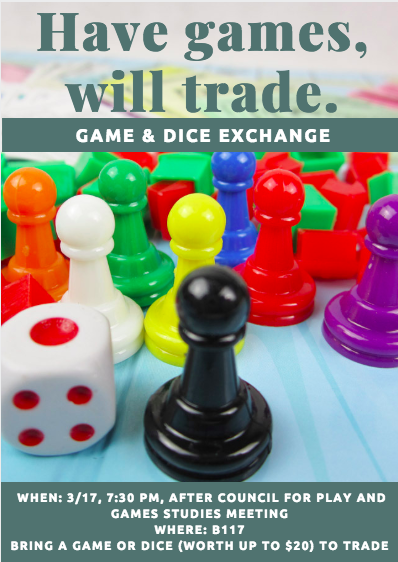 For the last four years, I have served as the Archivist for the Council for Play and Game Studies (CPGS), which is a standing group for CCCC. As the Archivist, I am responsible for taking minutes during each meeting, tracking membership through an annual survey, taking and gathering pictures of our events, and working with the Webmaster to populate the CPGS site with relevant content. I have also helped design and facilitate Gaming Pedagogy workshops sponsored by CPGS, as well as run the Game Room during CCCC. On occasion, I have also helped designed marketing for events
CPGS is described as follows:
The CPGS aims to provide scholars interested in play and game studies with opportunities to network and to share ideas and information.
Rationale
The subfield of play and game studies straddles multiple disciplines, and yet it finds its strongest roots in English studies. In recent years in particular, the pedagogical possibilities and implications of games in and around writing and communications classrooms have drawn interest from scholars seeking to connect the learning principles that underlie most game designs to educational course designs.  A look back at past Cs conventions reveals a growing interest in various aspects of play and games by scholars within the organization. From 2006 to 2008, Matt Barton and Scott Reed hosted the "1UP" SIG on games and composition studies, and Jan Holmevik and Cynthia Haynes hosted a "Serious Games" SIG in 2009 and 2010. From 2011 to 2013, many of the scholars involved in these SIG meetings turned their attention to the development of C's the Day, the conference's interactive role-playing game. In 2013, Danielle Roach and Kevin Moberly proposed the Play and Game Studies SIG in an effort to give those scholars a fixed meeting place where they could discuss issues surrounding play and game studies. Last year, we were excited to transition to a more permanent role at the conference as the newly-established Council for Play and Game Studies at CCCC, and we are pleased to continue that role this year.
Our members have a diverse collection of interests, currently including, but certainly not limited to:
Rhetorics of play and games

Gamification in/of the classroom

Pedagogies of/through play

Games as multimodal composition

Games as objects of textual study

Games as sites of struggle

Games and/as social justice

Harassment and trolling in gaming communities/the games industry

Games as commodity

Writing (with/through) games

Critical theories of games and play

Gamer/hacker culture

Persistence in gaming

Issues of transfer to the writing classroom

Assessing the use of game/play in the classroom

Paratexts of games

Game archiving
Currently, the Council uses a Facebook group page as a hub for information and conversation (https://www.facebook.com/groups/playandgamestudies). We also maintain a website as a hub for information and collaboration (https://cpgscccc.org). As we move forward, our hope is that these spaces will continue to provide a forum for scholars to unite their perspectives, examine their scholarly interests, and explore the problems and possibilities that emerge.
Below is an example of of one of the gaming pedagogy workshops I have helped design and facilitate.
[gview file="https://fs.wp.odu.edu/mmize/wp-content/uploads/sites/479/2018/08/Game-Workshop-Agenda-Cs-2015.pdf"]