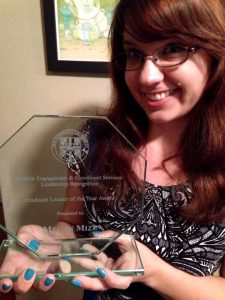 Throughout my academic career, I have demonstrated a dedication to service, whether I am simply providing tech support for a course or event or building on-going program for my colleagues in need of community and information. I began my service experience within my doctoral program; I have since drawn on experience, expanding my service efforts to include university and national communities.
My service began when I acted as the EGO President for two years, rebuilding and expanding a diminished organization. After I stepped down as the President, I stayed on as President Emeritus, serving as both an active advisor to the organization (as well as sister organizations, such as RSODU and MediaCommons) and a mentor to incoming officers. I believe that continuity and community relies on engaged, informed mentorship and leadership; my efforts have been to support those students willing to continue the organization's identified goals of "socialization and professionalization of novice scholars." As such, I have continued to develop, facilitate, and attend events that aim at these objectives, such as organizing the Summer Doctoral Institute with officers from our organizations for years. I also co-founded and facilitated the Humanities Unbound Graduate Conference (HU) for three years. During my time organizing HU, I have helped bring four outside scholars to campus on honorariums, providing further opportunities for my colleagues to network. To this day, I order and pick up t-shirts for our organizations, demonstrating that no job is too small so long as I am helping my community.
For the past four years, following the initial suggestion of Danielle Roach, I have developed a mentorship program for English doctoral candidates, known as "Dissertation Bootcamp." We saw a need for such a program, as many students struggled to maintain consistent productivity following their candidacy exams, often citing a lack of community or information once they were out of coursework. During the school year, I set up monthly writing days, with options to participate in-person or at a distance. During these days, students set writing goals, report on their progress, and set objectives for the coming weeks. We use a social media space to keep each other abreast of our progress in the interim between writing sessions. In past years, we also held "Screenside Chats," online meetings in the evening which occur every two weeks, in which students shared progress and concerns. During the Summer Doctoral Institute (SDI), I organize a three day Bootcamp event on-campus, with some distance students travelling to join. This writing intensive event also includes panels on all aspects of the dissertation process, such as preparing for candidacy exams, selecting a committee, approaching outside readers, preparing one's defense, fulfilling the dissertation style editing and submission process, and possible opportunities for publication. I also invite the Style Editor, who gives the required style editing presentation. All events are made available to distance colleagues as well, so that they might also benefit. It has become an unofficial rite of passage for our program to join Dissertation Bootcamp upon finishing coursework and shifting into the candidacy stage.

In my capacity as ePortfolio Coordinator and generally technologically competent colleague, I also offer service to my department and university on a number of occasions, often in the form of tech support. For instance, I have served as tech support for many instructors during courses and on many defense panels. I also volunteered during Dr. Imtiaz Habib's Shakespeare in Our Time Conference. As an extension of my expertise in ePortfolios, I have voluntarily offered additional workshops for adjunct faculty to support our Writing Program Administrator. Furthermore, I offered similar voluntary presentations, outside my current position's requirements, to other departments, such as when I worked with Oceanography graduate students in the development of their ePortfolios for the job market. I have also served as tech support and a speaker for a number of panels for the Preparing Future Faculty program.
My service now extends to the national level. For the past four years, I have supported the growth of the Council of the Play and Game Studies at CCCC. Currently, I serve as the Council's archivist, recording their membership and minutes, as well as capturing the Council meetings in action with pictures and video, all to be added to the Council's growing website. In 2016, I served on the planning committee for The Association for Authentic, Experiential, and Evidence-Based Learning (AAEEBL) Conference. My involvement lead to the creation of a new track for panels: "ePortfolio Pedagogy and Professional Development."
My service intersects with my roles as an instructor and a researcher, as I have strategically imported service strategies from my student experiences into my teaching and professional development efforts. In fact, I have adapted many of my strategies to use in a professional capacity as the ePortfolio Training and Support Coordinator, fostering a community of practice for ePortfolio faculty with the monthly "Screenside Chat" model developed for Dissertation Bootcamp. Finally, my service overtly influences my research, which focuses on pedagogical histories and rhetorical strategies of marginalized individuals, exploring ways in which people navigate and alter systems that rely on hierarchies which might seek to exclude them from active influence.
Service List
Department Activities
Facilitator, Dissertation Bootcamp, 2013 – Present.

Co-Facilitator, Summer Doctoral Institute, 2013- 2016.

Co-Coordinator, Humanities Unbound: A Graduate Conference, 2014-16.

Student Representative for the Ph.D. Advisory Committee, 2013 – 2014.

President Emeritus of English Graduate Organization 2012 – Present.

President of English Graduate Organization 2010 – 2012.

Coordinator, PIVOT/ Grant Database Workshop, 2013.

Coordinator, Professor's Research and Process Panel, 2012.

Coordinator, Academic Biography and Cover Letter Panel, 2012.

Special Events Director, Summer Doctoral Institute, 2011 – 2013 Sessions. Coordinator, EGO MA Oral Board Preparation Workshops 2011-2013. Coordinator, EGO MA Orientation, 2011-2013.

Coordinator, EGO Curriculum Vitae Workshops, 2011-2012.

Coordinator, EGO Conference Workshops, 2011-2012.

Student Organization Mentor (The Rhetoric Society of ODU) 2013 – 2014.

Researcher and Presenter to English Graduate Committee regarding the MA Oral Board

Process, April 2012

Moderator, "Rhetorical Perspectives on Visual Artifacts Panel," Emergence(s): A 

Rhetoric Symposium, 2011.
Institutional Activities
Co-Coordinator of the Humanities Unbound Graduate Student Conference, Old 

Dominion University, 2015, 2016.

Assessor for General Education Objectives, Summer 2015.

Facilitator, Faculty Writing Studio/ University Dissertation Bootcamp, 2014 – 2015.

Tech Support, "Designing Assignments: Arts and Letters Roundtable." Preparing Future Faculty, Spring 2014.

Tech Support, "Making It Through the Home Stretch." Preparing Future Faculty, Fall 2013.

Assessor for Composition 110, Quality Enhancement Plan, Spring 2013.
National Activities
Archivist, Council for Play and Game Studies, Conference on College Composition and Communication (CCCC), 2016-2017.

C's the Day volunteer, 2015, 2016.

Committee Member of AAEEBL Conference Planning Committee, 2016.